Chinese Drywall Testing and Analysis
Chinese Drywall Testing and Analysis
We understand many of our current and prospective clients are running into serious issues with imported Chinese Drywall. Centek provides services beneficial to determine air quality and product off-gassing. Using accepted analytical methods, superior instrumentation and Centek supplied user-friendly sampling equipment, we can analyze for suspected compounds causing contamination (total VOC's, sulfur species). This represents a cost-efficient, increased sensitivity approach to fulfilling your analytical needs.
Contact us to set up a meeting or presentation via web conference, over the phone, or face to face. Our experienced laboratory director, Russ Pellegrino, will assist you in developing a sampling program.
Chinese Drywall in the News
http://www.foxnews.com/story/0,2933,514636,00.html
Chinese Drywall Testing and Analysis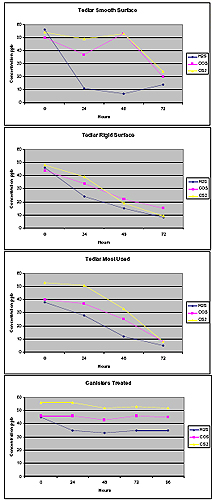 Air and Headspace Analysis – Considerations regarding the importance of Sampling Media and Environmental Conditions during sampling and analysis:
Tedlar Bags vs. Treated Canisters
What is the most accurate sampling media and why? The graphs on the left compare data from a number of different media used to sample sulfur compounds in air.
The tedlar bags and treated canister were spiked at 50 ppb. Over a period of time, the media was analyzed to watch stability and reproducibility. Data shows the pretreated quartz coated canister negates the sulfur compounds from adhering. Thus, making the canister media the most reliable media, relevant to detecting sulfur compounds in the matrix.
If you were to look at the tedlar media under a microscope, you would see that the surface is not smooth. In fact, it would have tiny scratches throughout the material. Centek also knows that sulfur compounds are very sticky. Sulfur compounds have a tendency to stick inside the tedlar bag because of active sites. Canisters with specially treated quartz coatings when examined under a microscope, show a surface that is very smooth, much like glass.
Using what we know about sulfur compound collection and analysis, sampling media and environmental conditions play a huge role in being able to identify contamination in air and drywall products. It is my belief that analysis can be consistent if sampling and analysis are subjected to a stringent protocol.
Comprehensive Environmental Laboratory Testing Services
Using accepted EPA methods for compliance, Centek Laboratories routinely identifies known and unknown VOC's in air, liquid, soil and other matrices.
Our clients come from a broad cross-section of industrial, commercial, governmental and residential sectors.